Resource Calendar is a calendar for managing and planning resources, including both employees and equipment. Resource calendars help organizations in their resource planning.

A Resource Calendar used to reflect specific working days, vacations, leaves of absence, and non-working days for individual resources. A good resource calendar should also include Organization holidays. Resource calendars provide project managers with an overview of which resources are available and when.
Resource calendars can be used for human resources as well as equipment. Departments within Organizations can also share resource calendars to manage a resource pool. 
Resource calendars are an important aspect of workforce planning and are particularly helpful to organizations. 
How does a resource calendar benefit your projects?
Project managers can benefit from using a resource calendar in many ways, e.g. by:
Having a high-level overview of resource availability.
Plan resources thoughtfully considering holidays and non-working days while scheduling work.
With a resource calendar, you can plan your team's work more efficiently.
Create a Resource Calendar in Microsoft Excel
You can easily create a Resource Calendar using Gantt Excel in minutes.
Here are 5 easy steps to create a resource calendar.
2 – Click on the Resources button and Add Resources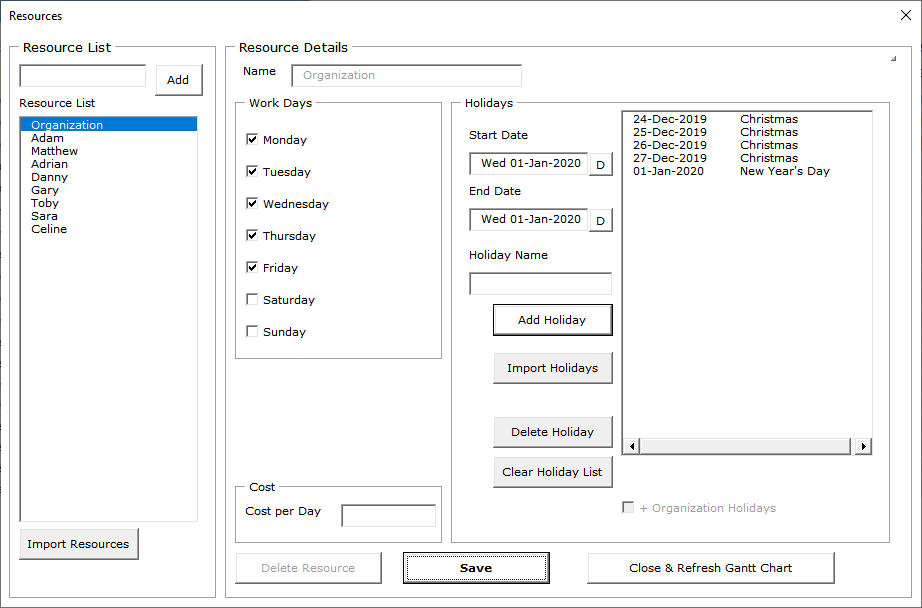 3 – Add all holidays and non-working days at the organization level and for individual resources
4 – Add as many tasks as the number of resources and assign one resource to each task.
5 – Your resource calendar should be ready.

Notes:
You can hide the columns that are not required like Task Name, Priority, etc… in the Settings window
You can change the colors of the holidays and non-working days in the Settings window.