Create a Monthly Gantt Chart in Minutes
You can create a Monthly Gantt Chart in Gantt Excel in minutes. All you have to do is create a Gantt Chart in Gantt Excel and click on the Monthly View button in the Gantt Menu. The monthly view will render instantly with the calendar timeline displaying all the months of the year.

The Monthly view is particularly helpful for projects that run for a couple of months or to a few years.
Click on the Setup Timeline button in the Gantt menu to select the start date and end date for the timeline. Based on the selection, Gantt Excel will automatically display the months between the two dates.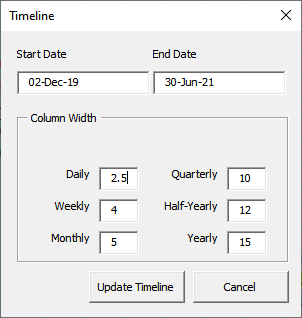 The Gantt bars will automatically display based on the tasks and milestone dates.
Gantt Excel also supports a three-month Gantt chart project timeline as a quarterly view, a six-month Gantt Chart as a half-yearly view and a 12 month timeline as well.
Make a Monthly Timeline Gantt chart with Tasks & Milestones
Here is an example of a Monthly Gantt Chart created in Gantt Excel
Gantt Excel gives you the ability to see every step of your project from the first Month to the last Month.

Make Better Decisions Faster with Monthly Gantt Charts in Gantt Excel
From simple task management and project planning to complex resource management, Gantt Excel helps you improve collaboration and increase work velocity — empowering you to get more done. 
You can download the monthly gantt chart by clicking the orange download button.