Our Construction Gantt Chart template allows anyone to create Professional-looking Gantt Charts in minutes.
When planning a construction project, a Gantt Chart is a must. What exactly is a Gantt Chart? Well, in very simple terms, it is a bar chart that is used to illustrate a variety of details about any construction project, such as when it should be started and completed, and what activities are included as part of it. By developing a building schedule – a plan, the owner/ builder knows in advance when every facet of the job is to begin and when it should be completed. This is a planning function and is carried out before the job is begun.
Here is an example of a Construction Gantt Chart.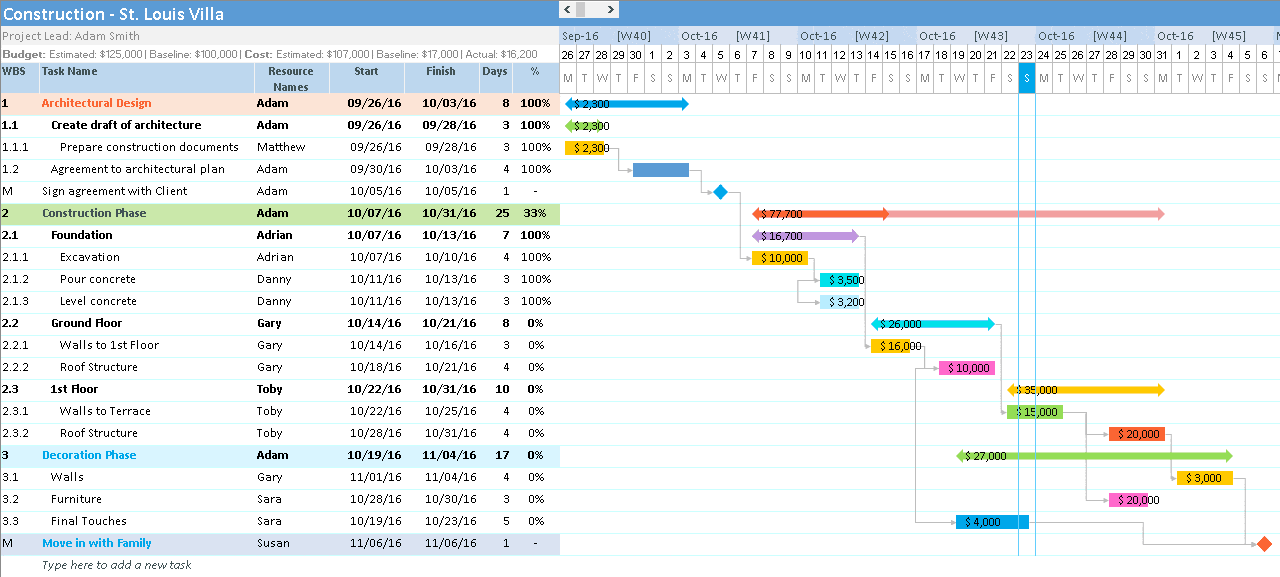 Create a Construction Gantt Chart that gives you the ability to see every step of your project from beginning to end.
The Gantt Chart Excel template for construction projects by Gantt Excel is an easy and effective approach to project manage small and large construction projects.
With all its stages, tasks and variables project management for construction can be a tricky business. From commercial buildings and residential construction to industrial construction, home construction, and remodeling. Gantt Excel is a great way to get started on any project.
Collaborate with your team, subcontractors, and clients on your next residential remodel with this project organized in phases. Use the Gantt chart template to plan, track status, stay on schedule, and communicate with everyone involved.
If you use Excel, you can create a Gantt chart/ project timeline for planning construction activities with almost no learning curve by downloading our Gantt Chart Excel Template. Excel is instantly familiar, so everyone on your team "gets it" and hits the ground running.
Our construction Gantt chart excel template also accounts for Costs which is very important while planning construction projects. We have two levels of costs.
Project Budget (Estimated & Baseline)
&
Task Level Costs (Estimated, Baseline & Actuals)
With this, you have a clear idea of what are the costs involved in the project and the client too is happy that all costs are tracked in a single document.

The other interesting feature is a Project Dashboard. The project management dashboard in Gantt Excel gives project managers, team members, and stakeholders an instant overview of the status and progress of the project. Your clients will be very impressed when they see the project summary as a dashboard. It provides a clear idea of the project plan and indicates current progress of the project.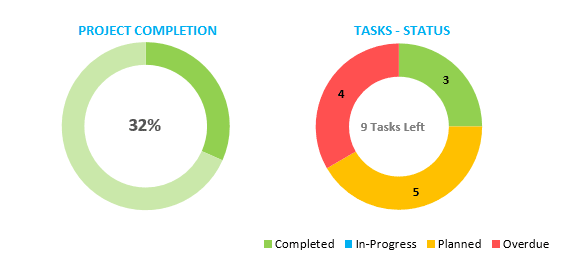 Create Gantt Charts in Excel 2007, 2010, 2013 & 2016 and in Excel 2016 on macOS 
PSST!!! HERE'S A LITTLE SECRET

Reviews From Around The Globe
People everywhere love Gantt Chart Excel and we thrive off their feedback.
All reviews have been collected and verified on
"Great product, fantastic customer service. Highly recommend this tool for all types of project managers!"

Matt
CA, United States

"The chart is amazing and easy to use. This will be a resource I use for years to come! Excellent customer service. Had questions about how to use and they provided solutions almost immediately."

Jay
ON, Canada

"Excellent service and customer support. The product is very intuitive and easy to use. "

Hilary Reid
Scotland, United Kingdom

"Simple but effective, easy to use but provides all you need to manage a project. Excellent customer support!!"

ON, Canada
"This is an excellent product, very easy to use, easy to buy and great value for money in saved time. You do not need to be an excel expert to use it, the automation of entry does it all for you. I recently showed the website to clients to help with their project planning. They were very pleased and will be adopting it through the company. I needed to contact support to help with a query; their response was quick, efficient and very helpful. Excellent service and great product, I thoroughly recommend Gantt Excel."

T. Dulieu
Essex, United Kingdom

"This saved a lot of time for me. Having to update a schedule in a project, then copy to excel was very time consuming and didn't allow real-time changes in my meetings. Having this done in excel allows me to customize my schedule just like project while adding additional tabs for other information. I've received nothing but positive feedback from my pears. Well worth the investment and has paid for itself. "

Jerrod
AL, United States

"I am new at using Gantt software. So I was very impressed with the speed and thoroughness of their customer service when I had basic questions about how to use the software. They were very thorough in their responses, which made it very easy for me to use. I have purchased similar software before but found them difficult to use and there was no customer service support at all. This is a great product, at a tremendous price, with service you can count on. I have recommended this product to numerous people in my field and will continue to do so."

Gary L
NV, United States

"Gantt Excel saved the day – And blew me away!
I needed a simple and intuitive Excel Gantt chart to quickly relay project status to business stakeholders comfortable with Excel. After trying a couple, I found GanttExcel and it exceeded expectations! I've been in systems for 20+ years and I'm amazed at the design and features of the product – all built in Excel! And the price? Unbelievable! Many thanks – you've made another fan!"Chuck S
CT, United States
"Gantt Excel is very intuitive, fast and offers great features…. My clients find the Gantt Chart easy to read and understandable. Project Managers in my team love this tool. "

Samantha Davis
United Kingdom

"Great product, allows you to customize your project to a good degree. Impressing my Boss!"

Jer
IN, United States

"Just what I was looking for, and such a helpful support team. This gives me the ability to produce professional Gantt charts, at a fraction of the cost of other solutions. Well done to the team at Gantt Excel. "

Gary Forrest
NY, United States

"We are a medium-sized company and have been using GanttExcel for almost a year now. The software is easy to use, as it is fully integrated into Excel. The software offers more than enough features and flexibility for us, to produce good quality project schedules. The Project Dashboard view is very useful for progress reporting.
Customer service is lightning fast.
Overall we are very pleased with the GanttExcel software.
Amazing it can be offered at this price level."Albert
Sliedrecht , The Netherlands