Our Construction Gantt Chart template allows anyone to create Professional-looking Gantt Charts in minutes.
When planning a construction project, a Gantt Chart is a must. The popularity of the Gantt chart in the Construction industry is understandable. There are many advantages to using it. It is tried and tested and it is a relatively simple method of making sure that a construction project runs smoothly and stays on track.
What exactly is a Gantt Chart? Well, in very simple terms, it is a bar chart that is used to illustrate a variety of details about any construction project, such as when it should be started and completed, and what activities are included as part of it. By developing a building schedule – a plan, the owner/ builder knows in advance when every facet of the job is to begin and when it should be completed. This is a planning function and is carried out before the job is begun.
Here is an example of a Construction Gantt Chart.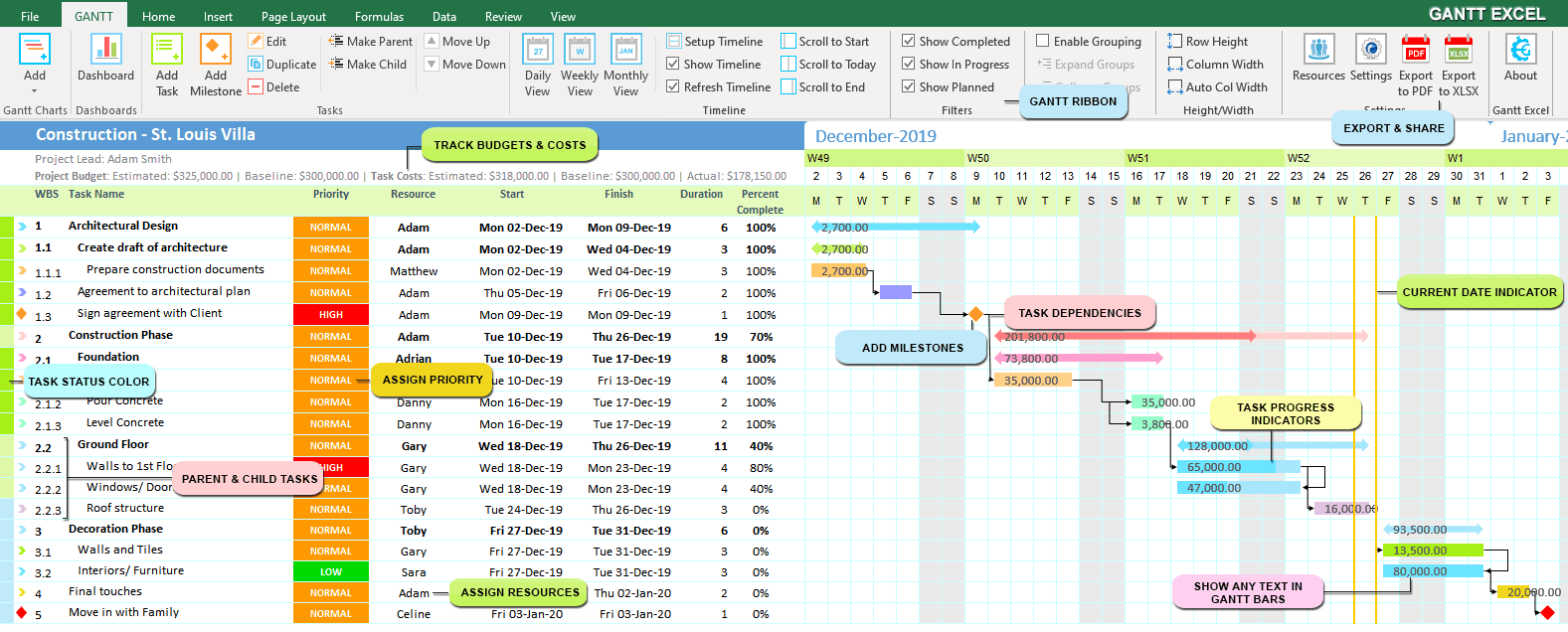 Gantt Excel Construction Charts
The Gantt Chart Excel template for construction projects by Gantt Excel is an easy and effective approach to project manage small and large construction projects.
Planning construction projects can be a tricky business, you need to plan each phase carefully. Creating and managing a construction project schedule is a challenge for many construction business owners. The solution is Gantt Excel. From home construction and residential construction to commercial buildings, industrial construction, Gantt Excel is a great way to get started on any construction project. Gantt Excel is also turning out to be the industry standard for planning construction projects.
Collaborate with your team, subcontractors, architects and clients on your next projects using Gantt Excel. Use the Gantt chart template to actively plan, track progress, stay on schedule, and communicate with all stakeholders. This ensures that all goals are met, expectations set clear and the project is on schedule.
If you use Excel, you can create a Gantt chart/ project timeline for planning construction activities with almost no learning curve by downloading our Gantt Chart Excel Template. Excel is instantly familiar, so everyone on your team "gets it" and hits the ground running.
When planning construction projects always create an overall company schedule along with the individual project schedules.
Construction Company Schedule
This overall company schedule displays the scheduling information for all current and upcoming projects. The benefits of creating a Company Schedule are the ability to see how far out your construction company is booked, where conflicts between projects may arise, any gaps in work, and when the major and minor milestones are required to be completed.
Here are a few necessary steps in building your Construction Project Schedule:
List all the Phases of the Project.

Break down the phases into individual child tasks.

Establish the required Milestones for each Phase of the project.

Set the task dependencies for each task and any overlap that can occur between tasks.

Publish the Gantt Chart.

Review the Project Schedule continuously with all stakeholders and make changes as required.

Coordinate changes in the Project Schedule to the Company Schedule each week.
Our construction Gantt chart excel template also accounts for Costs which is very important while planning construction projects. We have two levels of costs.
Project Budget (Estimated & Baseline)
&
Task Level Costs (Estimated, Baseline & Actuals)
With this, you have a clear idea of what are the costs involved in the project and the client too is happy that all costs are tracked in a single document.

The other interesting feature is a Project Dashboard. The project management dashboard in Gantt Excel gives project managers, team members, and stakeholders an instant overview of the status and progress of the project. Your clients will be very impressed when they see the project summary as a dashboard. It provides a clear idea of the project plan and indicates current progress of the project.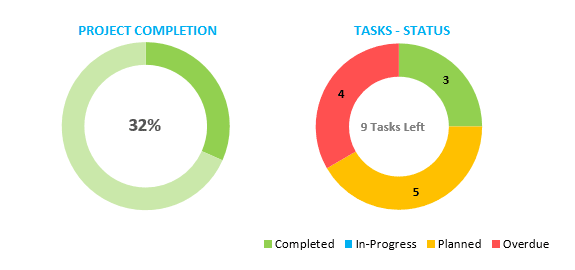 Construction Gantt Chart Samples
Construction Gantt Charts Made Super Easy
Manage your construction project timeline, tasks and workload like a Pro.

"This is a fantastic tool giving you an alternative to using MS project to create project Gantt charts. A++"
Marty E
CA, United States

"Very well designed project planning tool, used it many times and will keep using it. Support and delivery is fast and professional. @GanttExcel: keep up the good work!"
Camiel
Limburg

"This Gantt chart is the best thing that has happened to me. With ever-changing timelines, having the ability to just update one date and have everything flow is incredible and saves me a lot of time. Further, their team is very responsive, so its really great working with them and their product. I highly recommend."
Mariana
DC, United States

"Gantt Excel saved the day – And blew me away!
I needed a simple and intuitive Excel Gantt chart to quickly relay project status to business stakeholders comfortable with Excel. After trying a couple, I found GanttExcel and it exceeded expectations! I've been in systems for 20 years and I'm amazed at the design and features of the product – all built in Excel! And the price? Unbelievable! Many thanks – you've made another fan!"
Chuck S
CT, United States

"Great product, fantastic customer service. Highly recommend this tool for all types of project managers!"
Matt
CA, United States

"The chart is amazing and easy to use. This will be a resource I use for years to come! Excellent customer service. Had questions about how to use and they provided solutions almost immediately."
Jay
ON, United States